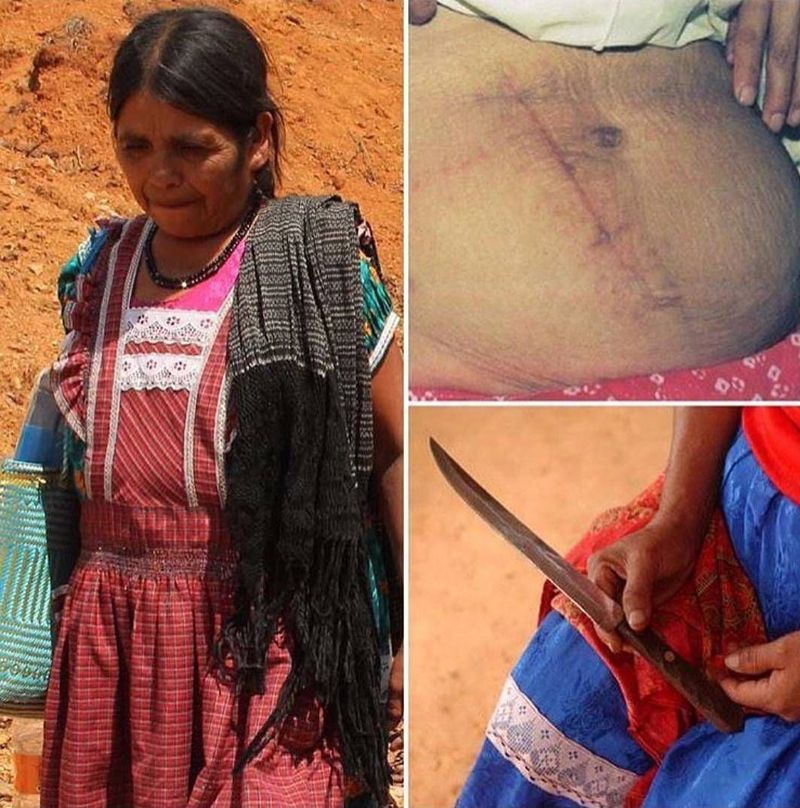 Sensitive content
This material contains content which some users might find distrurbing.
Already have an account? Login
READ THIS unbelievable story! 😨
In March 2000, Inés Ramírez Pérez, a Mexican woman, gained media attention after performing a Caesarean section on herself. Despite having no medical training, the operation was successful and both she and her baby survived.At midnight, on 5 March 2000 — after 12 hours of continual pain, Ramírez sat down on a bench and drank three small glasses of hard liquor. She then used a 15 centimetres kitchen knife (on the photo) to cut open her abdomen in a total of three attempts. Ramírez cut through her skin in a 17 centimetres vertical line several centimeters to the right of her navel, starting near the bottom of the ribs and ending near the pubic area. After operating on herself for an hour, she reached inside her uterus and pulled out her baby boy. She then severed the umbilical cord with a pair of scissors and became unconscious. She used clothes to bandage her wound after regaining consciousness, and sent one of her older sons to find help.Several hours later, the village health assistant found Ramírez conscious and alert, along with her live baby. He sewed her incision with an available needle and thread.Ramírez was eventually taken to the nearest hospital, eight hours away by car. She was released from the hospital on the tenth day post-surgery, and went on to make a complete recovery.Describing her experience, Ramírez said, "I couldn't stand the pain anymore. If my baby was going to die, then I decided I would have to die, too. But if he was going to grow up, I was going to see him grow up, and I was going to be with my child. I thought that God would save both our lives." .