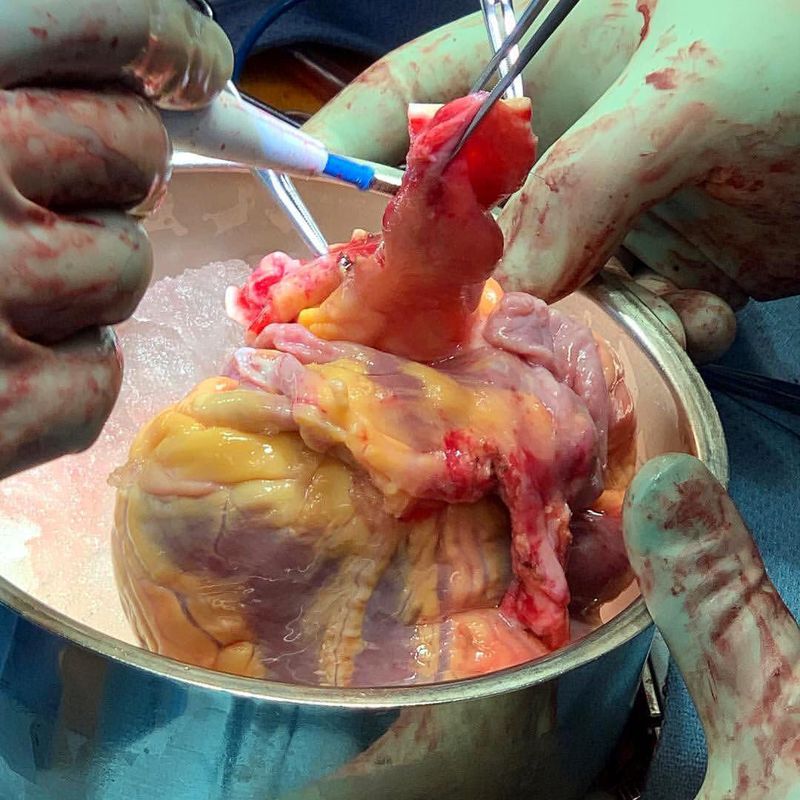 Sensitive content
This material contains content which some users might find distrurbing.
Already have an account? Login
Orthotopic heart transplantations
Orthotopic heart transplantations are some of our favorite procedures in the field of cardiothoracic surgery! After establishing general endotracheal anesthesia with standard monitors, arterial line, central line, large bore peripheral intravenous access, and transesophageal echocardiography, the remainder of the procedure is carefully coordinated with the transplant team procuring the donor heart. Minimizing the time the heart spends outside of a body (the "ischemic time") is incredibly important! Cardiothoracic surgeons begin with a midline chest incision followed by sternotomy and pericardiotomy. After the patient is systemically heparinized, the ascending aorta is cannulated followed by a separate superior and inferior vena caval cannulations ("bicaval" venous cannulation). Cardiopulmonary bypass (CPB) is initiated once the donor organ is "nearby" but the recipient's heart is not actually explanted until the donor heart is visualized. Excision of the recipients diseased heart takes place. With the donor heart still out of the chest the first suture is placed on the left atrium, starting at the site of the left superior pulmonary. After a couple of stitches have been placed, the heart is put in the chest, pulled to the left by the assistant™s hand and the suture tightened. The orientation is determined by this first left atrial suture. If it is correct, the other structures pulmonary artery and aorta, and the two cavae, lie adjacent to each other, and can simply be anastomosed end to end with running sutures. Length must be carefully judged; both redundant tissue, which leads to kinking, and over-trimming, with tension on suture lines, must be avoided. To reduce the so-called warm or implantation time, some surgeons will only do the left atrial and aortic anastomoses, doing all the right-sided suture lines with the heart re-perfused and beating. The heart is reperfused after removal of the cross-clamp. Both atrial and ventricular pacemaker wires are placed and exteriorised. The heart is slowly weaned off cardiopulmonary bypass. Once off bypass, two mediastinal drains are placed and protamine administered. The chest is closed in the standard fashion.