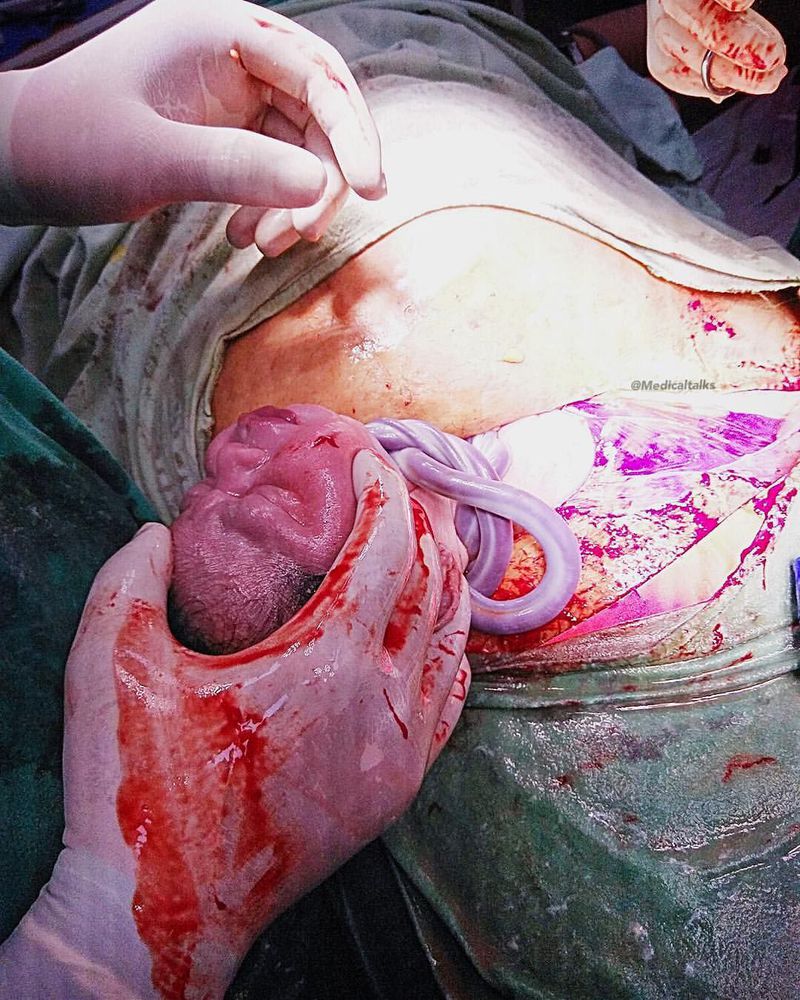 Sensitive content
This material contains content which some users might find distrurbing.
Already have an account? Login
Nuchal cord with multiple loops!
This is a case of a post dated pregnancy in a primigravida. She was taken up for immediate c-section due to abnormal cardiotocography, which showed fetal heart rate tracing abnormalities, specifically abrupt decreases in the heart rate below the baseline of varying depth and duration (variable decelerations). There were four loops of cord seen wrung around the baby's neck. The baby was cyanotic but survived after the cord has been unwrapped immediately after delivery. She cried after resuscitation and liquor was meconium stained. Both the mother and baby were discharged uneventfully. A loop of umbilical cord around the fetal neck (nuchal cord) is a common finding at delivery and is dangerous when it is wrapped very tightly and compresses the neck 360 degrees. It is caused by movement of the fetus through a loop of cord. In most cases, it is not associated with a significant increase in the rate of any clinically important adverse fetal/neonatal outcome. In others, tight nuchal cords have been associated with adverse outcomes, including lowered blood flow, hypoxia (low oxygen levels), fetal asphyxia and demise. Once delivered, the cord can be unwrapped and left intact to allow the trapped blood and the placental transfusion to return to the baby. Resuscitation with ventilation may be needed while this is taking place over the next 3 to 5 minutes.